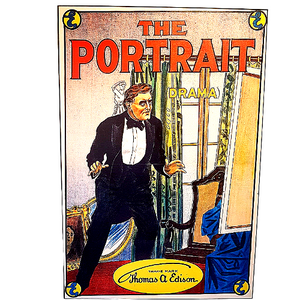 The Portrait Vintage Reproduction Movie Poster
$14200

$142.00
Tax included.
Shipping
calculated at checkout.
---
---
Framed and ready to hang this large Vintage limited edition reproduction from the original 1913 movie poster of "The Portrait" is produced on strong good quality canvas  and backed onto chipboard.  
This was a short film released in 1913 by the studios of Thomas A Edison. The film starred Marc McDermott and Miriam Nesbitt. It was directed by George Lessey, written by Richard Ridgely. Thomas A Edition Inc released 1,298 film's opening in 1911 before the studio closed in 1918.  
89 cm tall x  60 cm wide. The poster has a cord on the back to hang on any wall.
Movie synopsis -  Not "as in a looking glass" but "as in his own portrait" in a dream does Paul Le Grand, the famous artist, see the lines of dissipation come, one by one, after each successive debauch. Youth and health are both his when he reaches the height of an artist's ambition and wins the "Grand Prize" for his painting. Now for the new studio overlooking Paris, man servant and all his heart can desire save one, Jeanette, the girl. He gives an afternoon tea at his studio. When the friends have gone Paul begs Jeanette to marry him. She tells him to wait, saying his days of dissipation are not yet over, and leaves. Paul falls asleep looking at the portrait of himself. Dreams carry him through the dissipations to which the girl had hinted, dancing and women, gambling and wine. Each time he returns to his studio he sees added lines in his portrait. After the last dissipation there is such a radical change in the painting that he is unable to stand it longer and in his dream he cuts the portrait into shreds. Jeanette, the girl, returns for her gloves which she had forgotten, and arouses him. He then realizes it was only a dream, but the lesson was well taught and he promises to reform.
---
We Also Recommend
---