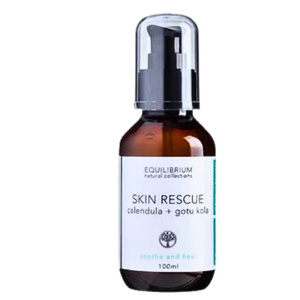 Equilibrium Natural Skin Rescue Soothing Gel
$1500

$15.00
Tax included.
Shipping
calculated at checkout.
---
---
This natural skin care product is one of the most popular beauty products in store as it is a successful remedy when you have sensitive skin. This natural remedy is best used daily to soothe and heal and to reduce itchiness and redness and it is recommended that it be used up to 3 x a day when there is any sort of flair up. The beneficial properties of aloe vera for its soothing, healing and cooling effect and calendula and gotu kola for their anti-inflammatory, healing effects make this a beneficial product for any first aid kit. Use on bites, scraps, burns and stings to soothe and calm.- 100ml 

Made with the highest quality organic and natural ingredients
Australian made and owned
CREATED WITH: 
Certified organic ingredients and natural ingredients, plant-based cold-pressed oils, steam distilled essential oils, vegan friendly products, recyclable and reusable packaging, ethical manufacturing practices within Australia. 
CREATED WITHOUT: 
Synthetic ingredients, parabens, sodium laurel sulfate, phthalates, chemicals, fillers, mineral oils, petroleum, animal testing. 
 Ingredients - 
Aloe vera gel, purified water, cucumber extract, gotu kola extract, calendula extract, sweet orange and lavender essential oils, 
Benefits of natural and organic ingredients: 
Aloe Vera gel: Is an all round natural gel that soothes and heals skin. It treats sunburn, acts as a moisturiser, treats acne, fights ageing, and lessens visibility of stretch marks. 
Cucumber Extract: has been used for many years to treat problem skin including acne and eczema. Cucumbers are rich in amino acids and contain Vitamin A, C, E and K. Vitamin E is vital to help repair skin if you sensitive skin issues. Also contain various minerals including magnesium, potassium and silica. Silica can help reduce the appearance of fine lines & wrinkles. 
Calendula Extract: natural Calendula is beneficial for dry or damaged skin and also promotes the fast healing and regeneration of the skin thanks to its anti-inflammatory and antibacterial properties. Calendula oil is also used to protect the skin from premature ageing and thinning of the skin. 
Gotu Kola: shown to speed the healing of damaged tissues and to minimise scarring. Improve the look of cellulite and other skin imperfections 
Sweet Orange Essential Oil: is shown to promote the production of collagen as well as increase the blood flow to the skin and is helpful at soothing dry, irritated skin as well as acne-prone skin. 
Lavender Essential Oil: helps skin sensitivities Well known as a natural relaxant.
Routine -
Smooth a small amount of skin rescue onto face and neck, wait 30 seconds and then use one of our organic and natural face creams, we normally recommend our natural cucumber day and night cream or our organic avocado and macadamia light facial cream 
Before using the toner, wash your face with either our organic aloe vera foaming cleanser or our natural cucumber cleanser. Our foaming cleanser is formulated to lift impurities while leaving the skin balanced and rejuvenated and our cucumber cleanser is formulated specifically so that it does not strip the natural oils from your skin but instead soothes and hydrates while cleansing. 
Also check out our other natural and organic face creams; rose restore cream, cucumber day and night cream or light facial. 
---
We Also Recommend
---