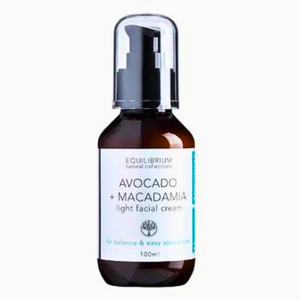 Equilibrium Organic Avocado And Macadamia Light Facial Cream
$1700

$17.00
Tax included.
Shipping
calculated at checkout.
---
---
This organic & natural  light facial cream is especially formulated for those who want an easily absorbed organic cream that re-balances skin and combats dryness without feeling too heavy. Full of biodynamic and organic avocado, macadamia oil and coconut, it is a treat to use. Perfect for people who have oily skin. Suitable for teenagers to 35 years old-100ml 

Made with the highest quality organic ingredients
Australian made and owned


CREATED WITH: 
Certified organic ingredients and natural ingredients, plant-based cold-pressed oils, steam distilled essential oils, vegan friendly products, recyclable and reusable packaging, ethical manufacturing practices within Australia. 
CREATED WITHOUT: 
Synthetic ingredients, parabens, sodium laurel sulfate, phthalates, chemicals, fillers, mineral oils, petroleum, animal testing.    
Ingredients -
Purified water, aloe vera juice, coconut water, emulsifying wax, almond oil, *coconut oil, *shea nut butter, *cocoa butter, *avocado oil, *macadamia oil, vegetable glycerin, *calendula extract, *olive leaf extract, *carrot seed oil, *rose hip oil, vitamin e natural, glyceryl caprylate, lavender, bergamot, ylang ylang and chamomile essential oil. 
*organic ingredients 
Benefits of Organic Ingredients:   
Organic Aloe Vera Juice: Is an all round natural juice that soothes and heals skin. It treats sunburn, acts as a moisturiser, and fights ageing. 
Organic Coconut Water & Oil: nourishes and hydrates your skin by replenishing your natural skin oils. It also helps cleanse and neutralise toxins, fungi and bacteria on the outer layers of your skin, which not only detoxifies but also helps to build your skins natural immune system and protection. 
Organic Shea Butter: Shea butter is a super food for your skin as it protects your skin from UV sunlight, harsh climate, dehydration and pollution damages. It is also one of the best anti-ageing agents for your skin, making it more supple, nourished and radiant. 
Organic Cocoa Butter: Is high in antioxidants, which reduces stretch marks and is high in fatty acids, which hydrates the skin and has been noted to help skin sensitivities.
Biodynamic Avocado Oil: is a great source of antioxidant carotenoids that, provide significant protection for your skin from the environmental damage that leads to fine lines, wrinkles and other visible signs of ageing. It is also a great source of Vitamin E & C and fatty acids. 
Biodynamic Macadamia Oil: It is high in monounsaturated acids that are very moisturising, regenerating and softening to the skin and also has anti-inflammatory properties. Macadamia oil also has been shown to slow down ageing and will also improve the appearance of scars, sunburn and other minor skin irritations. 
Carrot seed oil: It is a natural antioxidant, making it a must-have oil for healthy skin and is an ideal natural oil to add to anti-aging preparations. 
Organic Rosehip oil: is rich in essential fatty acids, vitamins and antioxidants that are essential for skin health. These essential fatty acids help to regenerate skin cells and to repair damaged skin tissue. It is the essential fatty acids in rose hip oil that quench dry, sun-damaged skin and help to improve the appearance of burns, scars, wrinkles and stretch marks. 
Organic calendula extract: Calendula is beneficial for dry or damaged skin and also promotes the fast healing and regeneration of the skin, this is because of its anti-inflammatory and antibacterial properties. Calendula oil is also used to protect the skin from premature ageing and thinning of the skin. 
Vitamin E natural: Promotes healing, provides the skin with necessary moisture and is a strong antioxidant that prevents premature ageing. Vitamin E oil prevents the formation of wrinkles by blocking free radical damage and treats wrinkles by boosting collagen production. 
Organic olive leaf extract: Is excellent at conditioning and softening your skin and is packed full of antioxidants, which protects your skin from the elements and the signs of ageing. 
Organic Rosemary extract: Contains a wide array of nutrients such as iron, calcium, vitamins and antioxidants, which rejuvenates skin and anti-ageing.    
 Routine -
Squirt a small amount of foaming cleanser into wet hands and apply it to your face in a circular motion, making sure each problem spot gets covered. Keep massaging in a circular motion for thirty seconds to a minute. Then rinse off with warm water and pat dry with a towel, making sure you don't rub your face, as this can irritate the skin. 
Once you have washed your face with the foaming cleanser, apply a small amount of our light facial cream; rub cream in your hands first to bring it to skin temperature, this will encourage absorption and then apply the organic cream with firm but gentle pressing motions. 
Always wash your face with our foaming cleanser first, so that you are exfoliating a clean face. Then gently rub the exfoliant in circular motions over your entire face to get rid of all dead skin, continue to do this until you feel you have exfoliated every inch of your skin. Rinse off with warm water and then splash your face with cold water to close your pores, and pat your face dry. Do this twice a week. 
Also try our:  Skin Rescue if you have sensitive skin. This natural remedy is best used daily to soothe and heal and to reduce itchiness and redness and it is recommended that it be used up to 3 x a day when there is any sort of flair up.    
---
We Also Recommend
---