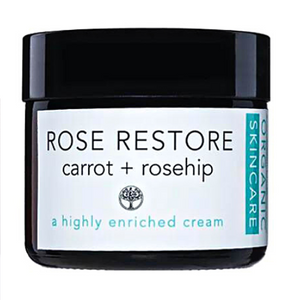 Equilibrium Natural Organic Anti Aging Natural Rose Restore Moisturising Cream
$1500

$15.00
Tax included.
Shipping
calculated at checkout.
---
---
Natural and organic skin care products. Our lusciously rich Rose Restore Cream is a fast absorbing natural face cream that softens and soothes your skin, combining the nutritious properties of carrot oil with almond oil, rose hip oil and shea nut butter and the healing properties of Bulgarian rose essential oil  This combination is packed full of anti-oxidants, vitamins and fatty acids creating a super-rich cream without the feeling of heaviness, making this the perfect natural and organic cream for the Australian climate and a great anti ageing product- 60g 
Made with the highest quality ingredients
Australian made and owned


CREATED WITH: 
Certified organic ingredients and natural ingredients, plant-based cold-pressed oils, steam distilled essential oils, vegan friendly products, recyclable and reusable packaging, ethical manufacturing practices within Australia. 
CREATED WITHOUT: 
Synthetic ingredients, parabens, sodium laurel sulfate, phthalates, chemicals, fillers, mineral oils, petroleum, animal testing.    
INGREDIENTS
Purified water, sweet almond oil, emulsifying wax,*shea nut butter, Bulgarian  rose oil, parfum, *carrot infused oil, *rose hip oil, *rosemary extract. 
*organic ingredients 
Benefits of natural and organic ingredients:    
Almond oil: It does not only soften rough or dry skin, but natural almond oil also creates a protective layer on the face and with the combination of two essential fatty acids, helps  create healthy, supple skin. Almonds are also packed with antioxidants, including vitamin E and a variety of protective plant chemicals. 
Jojoba Oil: This all-natural moisturizer is particularly effective for treating dry skin or helping to create a more youthful appearance for people with aging skin and we have added it to our natural skin care, as it is easily absorbed and leaves the skin feeling soft and supple. 
Shea Nut Butter: Shea butter is a super food for your skin as it protects your skin from UV sunlight, harsh climate, dehydration and pollution damages and is one of the best anti-aging agents for your skin, making it more supple, more alive, nourished and radiant. 
Rosemary leaf extract: It contains a wide array of nutrients such as iron, calcium, vitamins and antioxidants. Rejuvenates skin, prevents acne, and anti-ageing. 
Carrot Infused Oil: Rich in vitamins A and E, beta-carotene and carotenoids, Carrot infused oil is one of the best cellular revitalizing oils. It is a natural antioxidant, making it a must-have oil for healthy skin and is ideal natural oil to add to anti-aging preparations. 
Organic Rose hip Oil: is rich in essential fatty acids, vitamins and antioxidants that are essential for skin health. Essential fatty acids help to regenerate skin cells and to repair damaged skin tissue. It is the essential fatty acids in rose hip oil that quench dry, sun-damaged skin and help to improve the appearance of burns, scars, wrinkles and stretch marks. 
Evening Primrose Oil: Evening primrose oil is used for skin disorders such as eczema, psoriasis and acne. Not only does evening primrose oil hydrate the skin and increase circulation, it also helps reduce inflammation and keeps pores clear. 
Rose Oil: Rose oil has an excellent moisturizing effect on dry and chapped skin. It can fight off facial skin wrinkles and various other signs of ageing really well and has a cooling effect and soothes highly sensitive skin. It is also a rich source of vitamin C, which acts as an antioxidant and improves the texture of the skin.    
ROUTINE
Use a small amount of our rose restore cream; rub cream in your hands first to bring it to skin temperature, this will encourage absorption and then apply the natural cream in a firm but gentle pressing motion. 
We always recommend either applying our natural Hydrating Toning Gel or Skin Rescue underneath your facial cream. Use the Hydrator if you need a toner to remove redness, clarify the skin, and soothe the eye area and to hydrate even the driest of skins. Use the Skin Rescue if you need a successful remedy in the prevention and maintenance of all skin related conditions such as eczema, psoriasis, acne, rosacea, rashes, bites and its wonderful for sunburns! 
Wash your face with either our organic aloe vera foaming cleanser or our cucumber cleanser. Our foaming cleanser is formulated to lift impurities while leaving the skin balanced and rejuvenated and our cucumber cleanser is formulated specifically so that it does not strip the natural oils from your skin but instead soothes and hydrates while cleansing.          
---
We Also Recommend
---