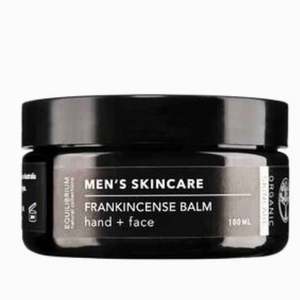 Equilibrium Men's Frankincense Balm For Face and Hand
$1700

$17.00
Tax included.
Shipping
calculated at checkout.
---
---
Men's skincare. Our men's face and hand balm is rich & nourishing and is easily absorbed and non-greasy.  The perfect balm for any man to revitalise and nourish his hand and great to apply to your face in the morning to keep it revitalised all day long! 100ml 

Made with the highest quality organic and natural ingredients
Australian made and owned


CREATED WITH: 
Certified organic ingredients and natural ingredients, plant-based cold-pressed oils, steam distilled essential oils, vegan friendly products, recyclable and reusable packaging, ethical manufacturing practices within Australia. 
CREATED WITHOUT: 
Synthetic ingredients, parabens, sodium laurel sulfate, phthalates, chemicals, fillers, mineral oils, petroleum, animal testing.
INGREDIENTS
Purified water, emulsifying wax, sweet almond oil, vegetable glycerine, cocoa butter, shea nut butter, parfum, gotu kola extract, calendula extract, rosemary extract, frankincense, patchouli, cedarwood & orange essential oils. 
Key natural & organic ingredients: 
Almond oil: It does not only soften rough or dry skin, but natural almond oil also creates a protective layer on the face and with the combination of two essential fatty acids, help to create healthy, supple skin. Almonds are also packed with antioxidants, including vitamin E and a variety of protective plant chemicals. 
Shea Nut Butter: Shea butter is a super food for your skin as it protects your skin from UV sunlight, harsh climate, dehydration and pollution damages and is one of the best anti-aging agents for your skin, making it more supple, more alive, nourished and radiant. 
Organic Cocoa Butter: Is high in antioxidants, which reduces stretch marks and is high in fatty acids, which hydrates the skin and has been noted to help skin sensitivities.
Rosemary leaf extract: It contains a wide array of nutrients such as iron, calcium, vitamins and antioxidants. Rejuvenates skin, keep skin clean and anti-ageing. 
Calendula Extract: natural Calendula is beneficial for dry or damaged skin and also promotes the fast healing and regeneration of the skin thanks to its anti-inflammatory and antibacterial properties. Calendula oil is also used to protect the skin from premature ageing and thinning of the skin. 
Gotu Kola: shown to speed the healing of damaged tissues and to minimise scarring. Improve the look of cellulite and other skin imperfections 
Sweet Orange Essential Oil: is shown to promote the production of collagen as well as increase the blood flow to the skin and is helpful at soothing dry, irritated skin.
Frankincense essential oil: benefits include the ability to strengthen skin and improve its tone, elasticity, and defence mechanisms against bacteria or blemishes. 
Cedarwood essential oil: soothes dry skin, improves skin conditions & promotes hair growth (making it great to rub over your beard area!) 
Patchouli essential oil: provides skin with many benefits such as a complexion that looks vibrant and feels healthy and smooth.
---
We Also Recommend
---