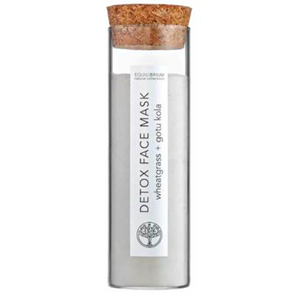 Equilibrium Detox Face Mask Wheatgrass And Gotu Kola
$1500

$15.00
Tax included.
Shipping
calculated at checkout.
---
---
The perfect detoxifying + rejuvenating mask
THE BENEFITS OF WHEATGRASS   
Offers a potent natural detox to remove toxins from your skin, it is high in antioxidants to prevent damage from free radicals and is known to be anti-aging as it will repair and prevent skin damage.
WITH THE ADDED BENEFITS OF GOTU KOLA 
Soothes dry skin and with its anti-inflammatory effects it will reduce redness and ease the effects of rosacea & eczema, by keeping skin calm & comfortable. Also helps skin repair & helps with damage control.
AND GREEN CLAY 
Great for oily, combination + acne prone skin, as it restores balance to the skin, by extracting and soaking up excess oil. It is also an effective deep cleanser, working to balance the skins pH levels and helps to regenerate the skin leaving it fresh and glowing.
AND ALOE VERA 
Has anti-inflammatory & analgesic qualities, making it beneficial for psoriasis, itchy rashes, sunburn & dryness & helps with the regeneration of skin tissue.
INGREDIENTS

White clay, green clay, wheatgrass, paw paw, nettle leaf, gotu kola, aloe vera. 
HOW TO USE
Mix a heaped tablespoon of face mask with water, herbal tea, aloe vera gel or a liquid of your choosing. Be aware that you do not need much water so drizzle water in until you have a desired consistency.

Use a brush or your fingertips to smooth mask over your t-section, cheeks, chin and forehead.

Leave for 15 to 20 mins or until mask is dry.

Using your hands wash mask off, use circular motions to remove any leftover dead skin or impurities from your pores.

Splash face with cold water to close your pores.

Use face cream or facial oil to hydrate skin.
---
We Also Recommend
---